The influx of visitors to Cebu City is amazing. Over the past year, more and more flights have been added to accomodate the ever increasing number of visitors to the Philippines' Queen City of the South.
Being the second metropolis in the Philippines, Cebu is naturally the next priority area for advertisers when it comes to Out-Of-Home media placements. Brand leaders usually prefer to greet the visitors of Cebu with massive billboards located in the Mandaue area, just after descending from the Marcelo Fernan Bridge.
For some time now, the Mandaue City government has implemented a rule that all billboards placed on this stretch should be unipole billboard structures. These types of structures patterned after the industry standard in the U.S. are undoubtedly more appealing to the eye given that it eliminates the need for cris-crossed steel bars resemblant of match sticks. However, the cost for these unipoles run into the millions. As such, outdoor suppliers have to pass on the cost of these structures to the advertisers as they command monthly rentals in the neighborhood of 300 to 350 thousand per month.
For those of us who plan outdoor media, 300 thousand can buy you a spectacular site along EDSA. With this, my contention is that if all you needed to do was hit the traffic travelling from the Mactan International Airport headed for Metro Cebu via the Marcelo Fernan Bridge, the premier spot for a "Welcome" billboard is not in Mandaue but rather in Lapu-Lapu, Mactan, just befor one ascends to the Marcelo Fernan Bridge.
The map below clearly shows that you'll be hitting exactly the same audience.
The advantages of placing a "Welcome" billboard in Mactan versus Mandaue are very obvious. while hitting the same audience, the monthly cost for the billboard is less (by about 120 thousand) and, the posting has greater impact since there are hardly any adjacent billboards.
The evidence is clear. The latest posting on this 65' high by 50' wide billboard was a welcome banner for the visiting president of South Korea.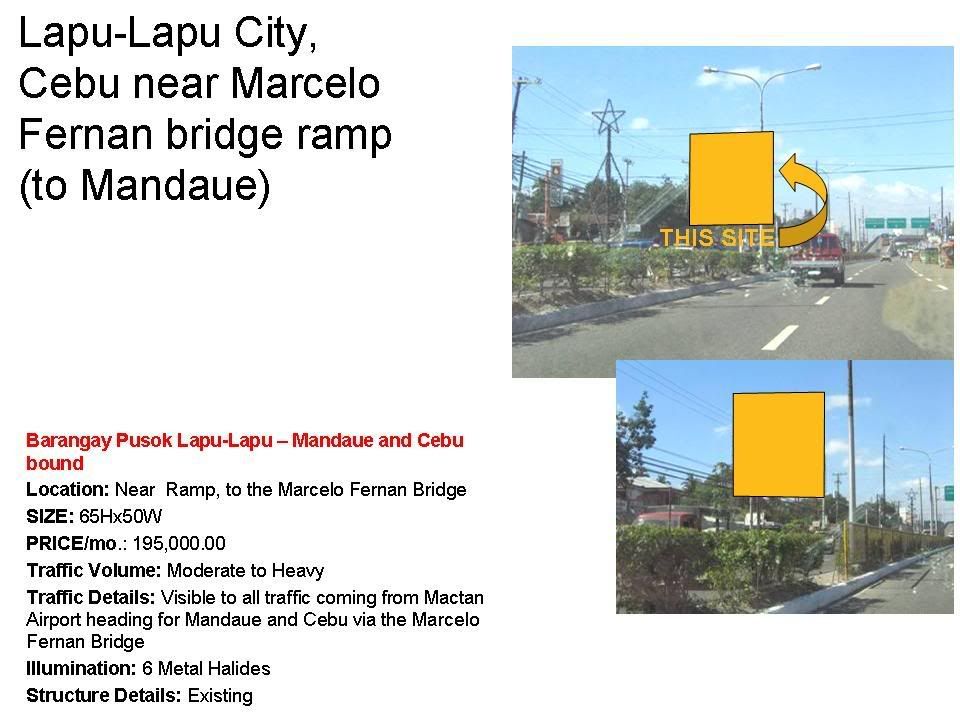 All the more, this site will be of extreme importance as the 2006 Sinulog Festival comes in by January 2006.